Choosing a wedding professional in Los Angeles that fulfills each and every requirement of your dreamy wedding can be quite challenging. It is very rare to find a wedding service which provides not one but a variety of services such as wedding planning, banquet hall, catering, bartending and such.
Nowadays, there are so many different vendors and service providers who are specialized for just one specific activity at a wedding or party. Even though their service can be unique and satisfying, communicating and engaging with several different vendors amidst the wedding rush could be hectic and overwhelming. Also, hiring a few different vendors and service providers could cost you some bucks and result in a loss of money.
Nevertheless, the most successful solution to overcome all your wedding related matters is hire a professional who provides all these wedding services under one roof. This way only one service provider will be responsible for your entire ceremony, from planning the wedding to the very end. This may sound like an easy task but it takes some time and effort to find such a wedding professional in Los Angeles. That's why we bring the excellence of "The Ranch Weddings and Events" to make your wedding perfect.
Valuable services of "The Ranch Weddings", wedding professional in Los Angeles
My Ranch Weddings is an all-in-one wedding service professional in Los Angeles who provides a range of services in order to meet each and every wedding need of your special day. They serve at any venue or home in and around Los Angeles taking the entire responsibility of your wedding into their hands. The proud owners, Jose Mejia and Tracy Mejia along with their team of professionals will make sure to perfect your wedding and make it an unforgettable one as it is supposed to be. You and your loved ones do not have to bother much, as "The Ranch Wedding", the wedding professional in Los Angeles will take over your wedding and enlighten it with their many valuable services.
The services of "The Ranch Weddings" include,
1) Wedding planning
2) Bartending – Full service bar
3) Catering – The chefs at "The Ranch Wedding" are specialized to prepare any kind of delicious meals and beverages at your preference.
4) Large banquet hall – This spacious hall has the capacity to accommodate over 300 guests. The outside patio and beautiful view stands out making it the perfect destination for your dream wedding. Interestingly, as their venue is private, you and your guests can have all the privacy you need and enjoy your wedding to the best.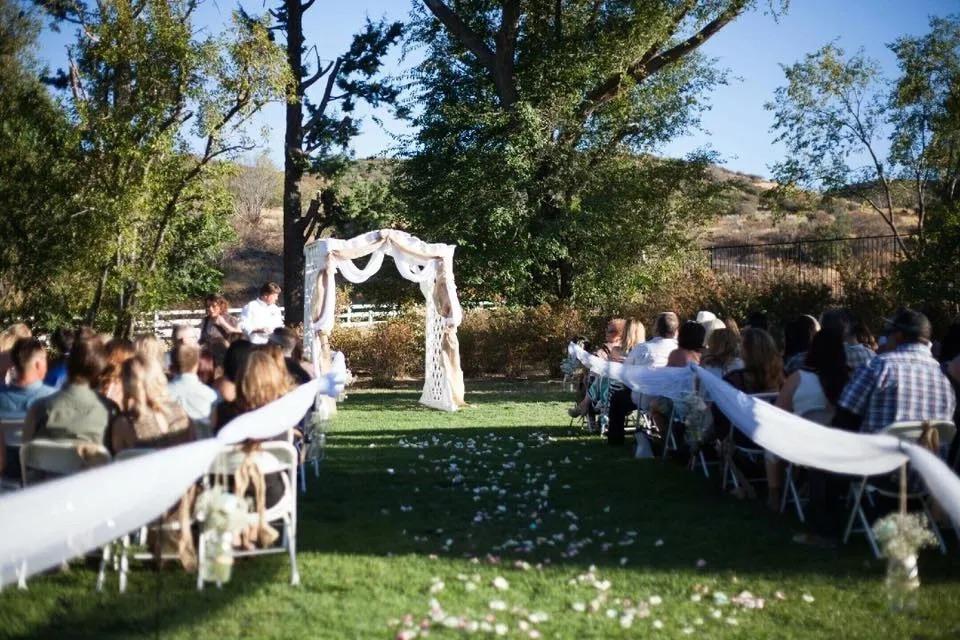 5) Residence – A bridal cottage for the bride and a ranch for the groom is included.
6) Furniture and fittings – This wedding professional provides unity/sand tables, head table for the bridal party, tables and chairs, linens such as table cloth, table overlays, napkins, gift and cake table, glassware and flatware, etc.
7) Other services – Full staff with security, servers and coordinators.
Photography and videography service by Los Angeles Videographers to capture your professional wedding in Los Angeles
When you get almost every wedding requirement fulfilled by My Ranch Weddings, the wedding professional in Los Angeles, we, the Los Angeles Videographers will be there to capture your glorious wedding and provide you with picture-perfect photos and thrilling videos. The Los Angeles Videographers is yet another wedding professional in Los Angeles similar to "The Ranch Weddings" specialized and famous for its "creative eye".
Our videography crew will make sure to do justice for your wedding day by capturing those romantic and exciting moments of you and your guests making it as beautiful as you dreamt. We will also provide you with proper knowledge and guidance of photography and videography to capture your wedding in a better and special way so that your wedding photos and videos will be worthy-for-a-lifetime. Our job role is not only confined to capturing ordinary photos and videos, but we take our products to the next level by editing and retouching them in order to provide you with quality photos, exciting long videos and memorable highlights. Contact us now, to get the best captures of your dreamy wedding!